KEEPER OF SECRETS
Staff member
May 26, 2001
2,432
309
83
47
I'm sure a lot of you are familiar with the older turbo comparison chart.
I've wanted to redo the turbo listing for awhile now as Precision's technology has changed dramatically over the years. Welp, it was one of my first projects when I came back to Precision. So, without further delay, here is the latest turbo comparison chart.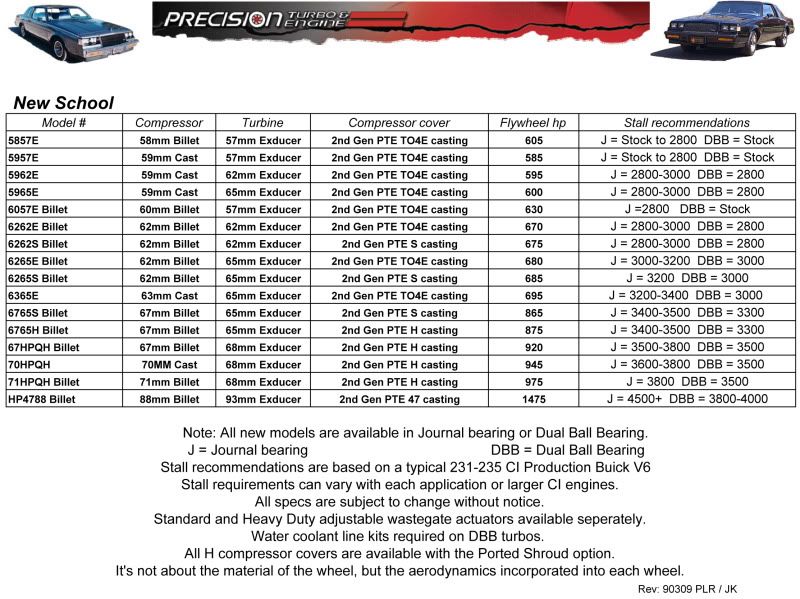 As you can see, I broke it up into two charts.
The first chart shows the Old School nomenclature / turbo models and what they have been displaced by. Their basic specs and hp ratings.
The second chart shows the New Precision Turbo part numbers, their new specs, flywheel hp ratings and suggested stall requirements. Given, with todays new torque converter technology ever changing, the older rules for stall recommendations have dramatically changed. Dusty and the guys at PTC have really rewritten the books when it comes to this area.
Also, in the Stall recommendations column, you will see
"J"
and
"DBB"
. J = journal bearing cartridge and DBB = dual ball bearing cartridge. With regards to turbine housing options, the 57mm turbine wheel equipped turbos, are only available with our THB3-57 (.63 A/R) turbine housing. All of the rest of the 3-bolt turbine housing turbos, are available with either the Precision .63 or .85 A/R turbine housings.
(IE: 62mm, 65mm and 68mm turbine wheels.) As always, the compressor cover options are designated as E, S or H.
E
= TO4E style compressor cover. 3" inlet, 2" discharge, .60 A/R.
S
= Precision's new 2nd Gen cover with logo. 4" inlet, 2.5" discharge .70 A/R.
SP
= Precision's new 2nd Gen cover with logo and Ported shroud. 4" inlet, 2.5" outlet, .70 A/R.
H
= Precision's new 2nd Gen H cover with logo. 4" inlet, 3" discharge .75 A/R.
HP
= Precision's new 2nd Gen H cover with logo and Ported shroud. 4" inlet, 3" outlet .75 A/R.
We will be working on updating our website soon.
If you guys have any further questions about these new Buick turbos, by all means post them up on here, or you can PM me or even call us. In most cases, we are 5-7 working days on all new turbo orders, if all the parts are on the shelf. As you can imagine, demand is very high with our new Billet technology turbos and we greatly appreciate every ones patience with these matters. These turbos are currently available through all of our Dealers and Distributors. Including and in no certain order, Big Wood Racing, Full Throttle, Hartline Performance, Cotton's Performance, etc etc. These vendors are also supporting members on this site, so show'em some love guys and gals.
Let us know if we can help you.
Patrick
Precision Turbo
219-996-7832
patrick@precisionturbo.net