Hey everyone,
After cleaning up the engine bay on the Hot Air, I decided to deal with the suspension and brakes.
I had replaced the brakes 2 years ago with OEM replacements, but after reading and watching a few videos on YouTube in regards to doing the Blazer Brake upgrade, I slowly started gathering parts for the swap, as it seemed easy enough. The spindles were the most difficult to find as it seems there just aren't lot of 2wd Jimmy/Blazers in Canada. I will eventually swap out the rear drum setup with discs as well, but need to find some 2wd blazer replacement for the rear as well.
Along with the brakes I decided to upgrade the suspension as well. I purchased the Aldan American Coilover kit. The rears were fairly easy to install, but when I got to the fronts I realized the upper and lower ball joints, tie rod ends, idler arm, center link and sway bar end links were all cracked and had no grease no longer. Cannot believe i hadn't realized earlier that they needed done attention, so i changed all of them out to Moog parts, except the center link as it hasn't arrived yet.
I forgot how hard it was to repress the lower ball joints on these GM cars.....I had replaced them on my 442 about 10 yrs ago when I was a young buck. This time my back was so sore from using the braker bar and the ball joint press tool.
Here are some pictures of the parts that were removed...the rear springs were a few months old, but the res took the suspension parts were ready to be tossed. Like I side the brakes are fairly new, I will just put them on Craigslist and see if I can recoup some $$$ back for the spindles, rotors, pads and calipers....and the suspension parts as well.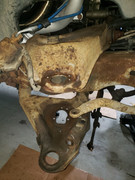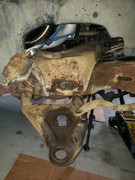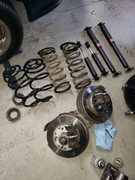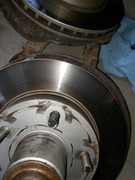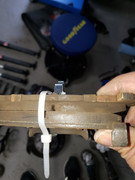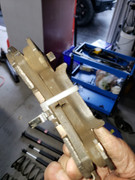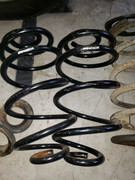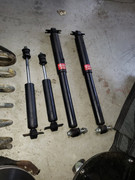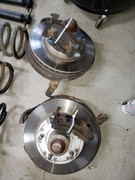 I cleaned up the A-Arms with a wire brush disc on my grinder and resprayed it with rust preventative paint. Also installed all the Moog suspension parts.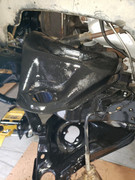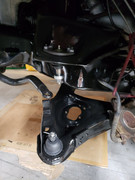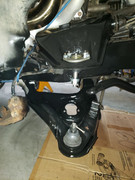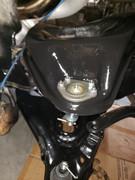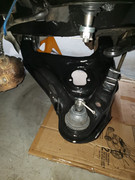 Last edited: