Hello Everyone,
It has been years since I've been part of the Buick scene. Late 2009, the 2004r took a dump after a few short months (?) of having installed a 3.8 I built with a girdle, ported heads, 212/212 (?) flat tappet cam, etc. After the trans let go, I let the car sit for awhile bought a thirdgen Camaro to satisfy a road racing itch in the meantime. The buick just sat.
A year later I finally got motivated again and purchased a RMVB TH400 with PTC converter. Turns out pressure in the converter was too high and ate the thrust bearing in the engine pretty much right away. Only drove it around the neighborhood once or twice. This was maybe a few months before my wife and I were scheduled to move to Italy for three years (late 2011). I did my best to pull the engine and trans to fix the issue but as with any project, nothing goes as planned. I discovered that I needed a full engine rebuild. Of course, the first machinist I used took his time and I wasn't able to get the thing together before the move. I put the car in storage without an engine along with a huge stack of parts in boxes and all of this sat for 3 years.
Fast forward to Dec. 2014, I came back to the storage unit to pick everything up. It was sort of like the scene in Back to the Future III where they find the DeLorean in the cave.
The unfortunate part is that this storage unit apparently leaked water at some point which got on some parts.
So I finally got the motivation to pull everything out and get this monster back on the road. This thread is to document my engine build and get a second opinion on the things I am doing. It has been a long time since I have done engine work, I don't want to miss anything or do anything wrong.
Here are the basic specs:
Girdled 109, girdle has been surfaced and checked on surface plate
Stock rods, arp rod bolts
TRW pistons .030 over, stock GM pins (much lighter than trw pins)
New front cover
Comp Roller Cam, 210/215, .517/.517 lift - The cam kit came from Full Throttle Speed
Harland Sharp roller rockers
Home ported and flow benched Irons, ~190cfm on the intake, stock size valves
Cometic head gaskets
Fully ported intake with RJC flow plate
72 lb injectors, MAF GenII translator, LS1 Maf, closed loop wide band WOT.
Powerstroke intercooler
TE-45A turbo
THDP 3" downpipe
Alky injection + 125 shot of nitrous for spooling
I know my turbo is an antique. And I don't even know what everyone is doing for engine management these days. I'll have to get caught up.
With this combo, and the previous flat tappet cam, I had exactly 1 dragstrip pass and put down a 1.54 60 foot with an 11.2@118 at something like 5200 rpm in overdrive. This was with the 2004r and a crappy torque converter that was slipping like crazy, hence the overdrive.
New goals: Run the car on E85, get into the low tens.
Here is what it looked like in its glory days

With all that said, let's get down to business
Un-bagged the engine and decided to look it over. The cylinder bores look ok to me, there seems to be a slight discoloration in the cross hatch (maybe some very light corrosion?) but nothing you can feel. Hardly visible in photos, looks like slight yellow in the picts.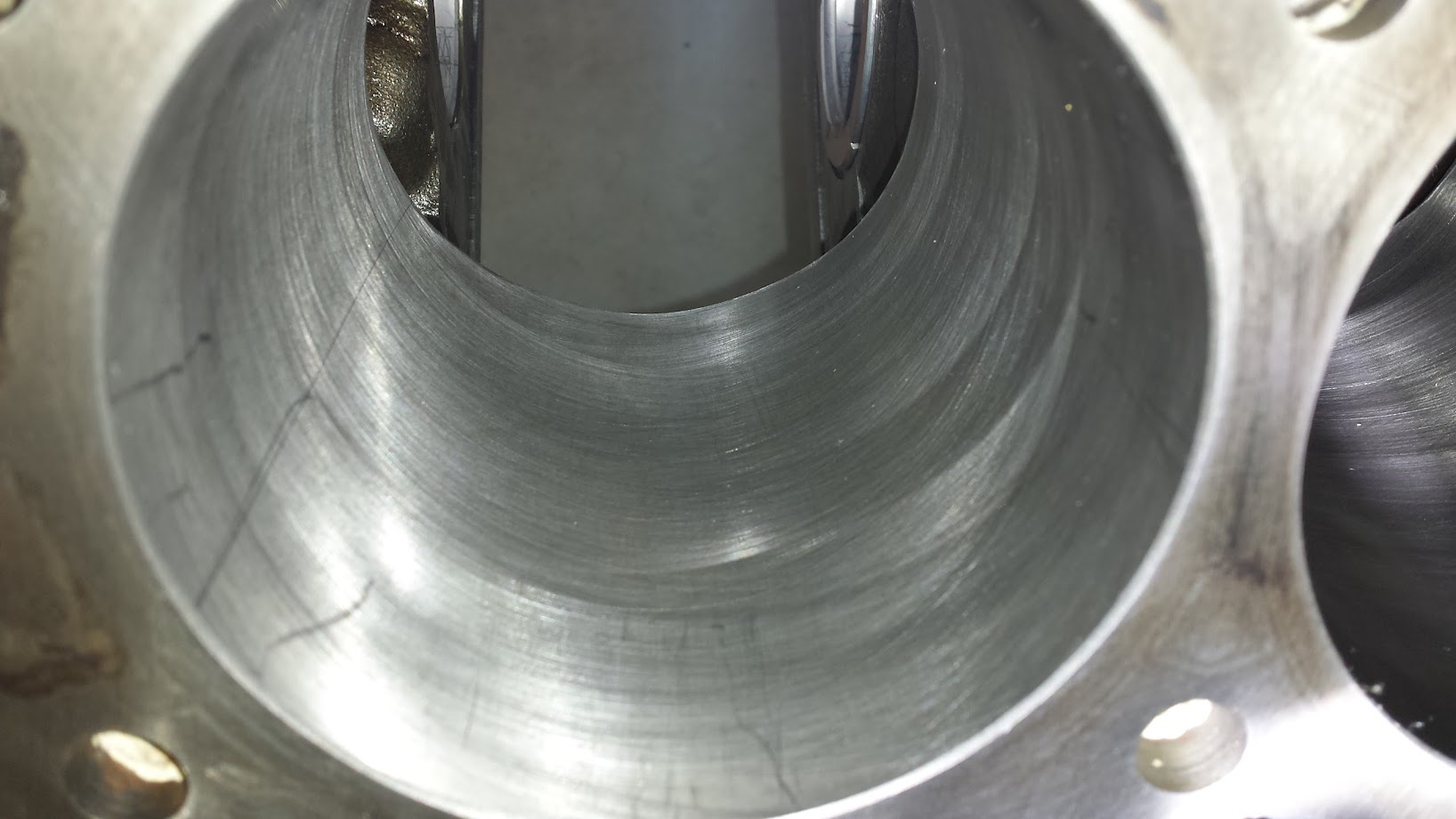 Seem ok?
Now here is the nasty part, the pistons and rods: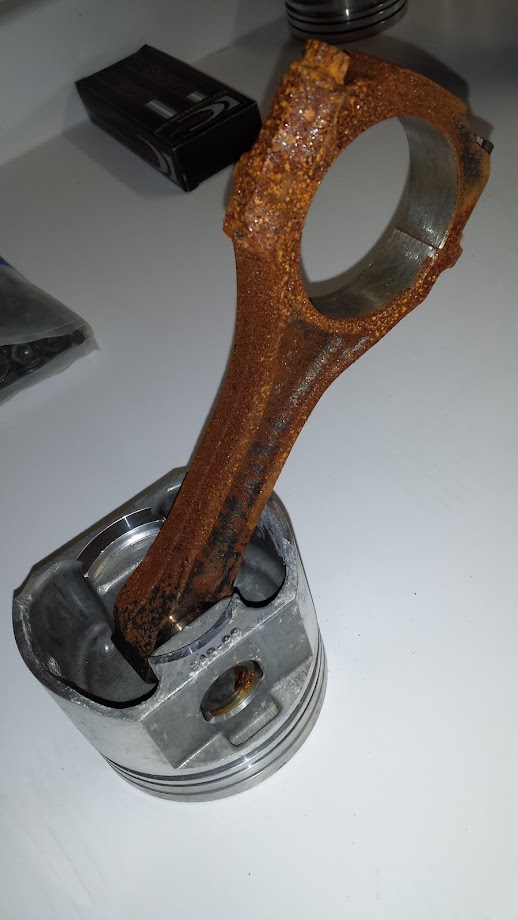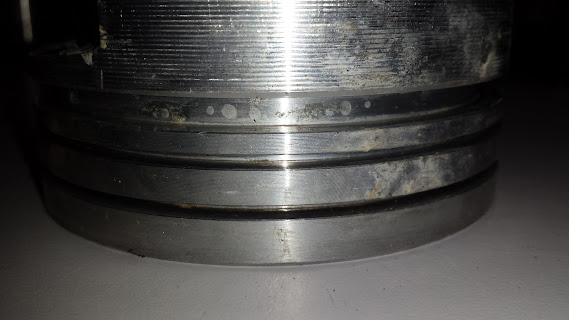 Now the question is, can these be saved? I was thinking I would dunk them in soapy water and scrub away with a green scotchbrite pad + nylon brushes. Is this a good idea? Is there a better way? I just had them reconditioned/sized right before I left.
From there I turned my attention back to the block. The crank was left installed and spun freely. There was still a fair amount of lube on things. Since it was all together I decided to measure the thrust. The way I did it was I loosened up all of the main studs, applied 30 weight oil to the threads and washers, and then torqued each pair of studs starting from the #3 cap. I torqued the whole thing in steps, 30-60-90 ft lbs. #3 cap, #2 cap, #4, and #1. I then loosened #2 and then just barely snugged them down again. I tapped the crank rearward with a dead blow, and then tapped it forward before torquing #2 down to 90 again. At this point I measured the thrust and it was right at .009". Sound good to you guys?
Note: I did not install the rail studs on the girdle. My block to girdle gap is around .002 on most of the passenger side rail, and less than that on the drivers side, possibly 0.0. The .002 feeler is the smallest I have, it only partially slid into the pan rail sides in some spots. I didn't think installing the rail studs in this situation would appreciably alter the oil main clearances. Thoughts?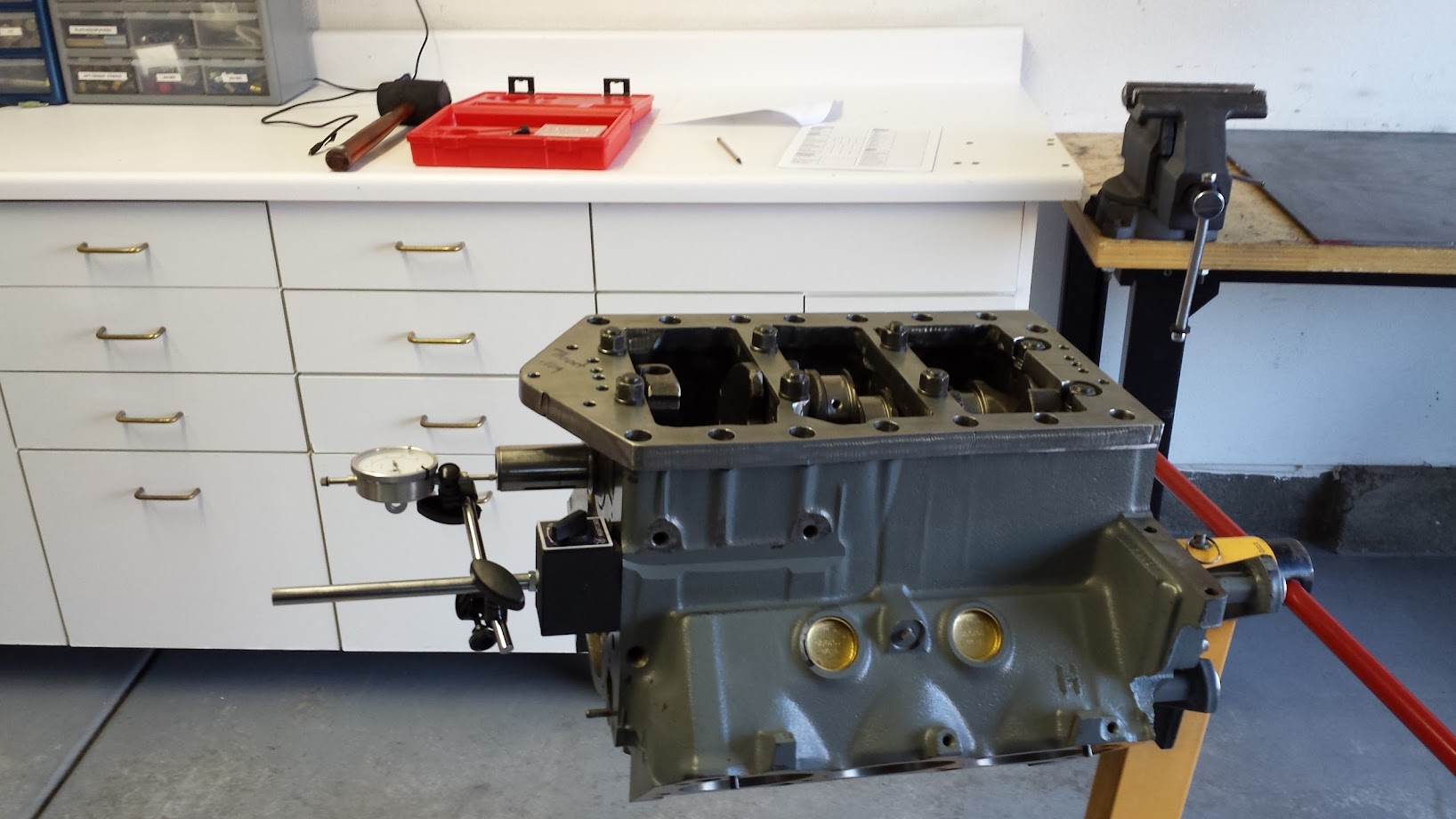 Decided to continue blueprinting what I could. Pulled the crank and inspected it before I started measuring. Looks like one or two rod journals developed very slight corrosion from what looks like a fingerprint. Here are some picts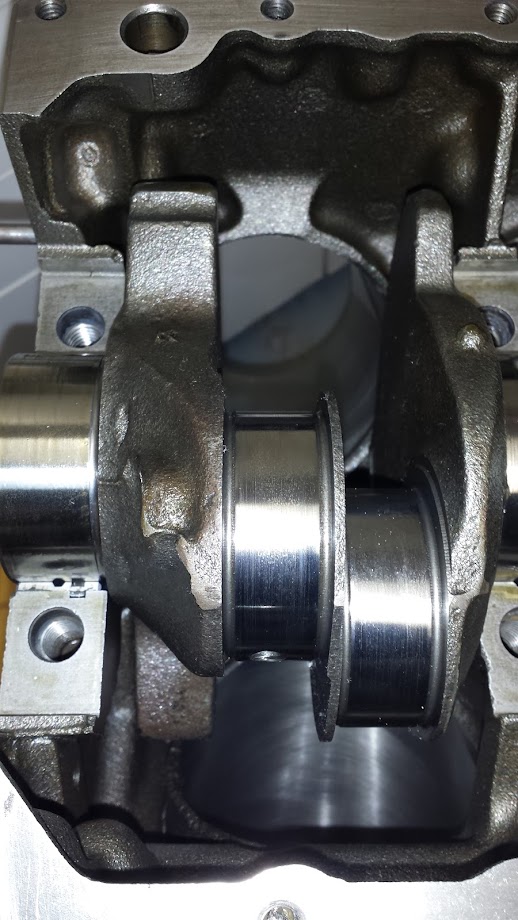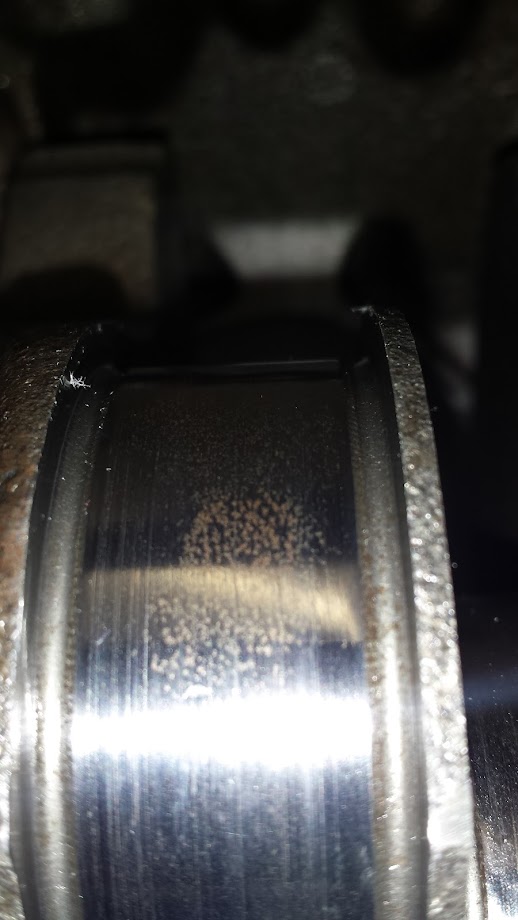 I could not feel any texture in these areas. I decided to measure the main, rod journals, and main oil clearances. For the main clearances, I bolted the caps and girdle back down just as before. BTW The crank mains are .010 under. Here is what I got:
All crank mains were at 2.4899"
Main clearances: 1).0023" 2).0021" 3).0017 4).0022"
Thoughts?
Note: The main clearances seemed to have a lot of variability, there were only a couple of small areas where I could position the dial bore indicator to get the smallest clearance noted above. I understand things get wider at the parting line, but how much variance is acceptable vertically? Also in trying to establish readings, I put a lot of little marks into the bearings from the dial bore indicator, I'm assuming this isn't terrible, is it?
Rod journals: 1)2.2488" 2)2.2487" 3)2.2487" 4)2.2488" 5)2.24884"
Can't measure oil clearance until I get the rod situation sorted out.
Also measured the cam journals.
They all came out to around 1.8103-1.8105"
Measured the oil clearance on the cam bearings. I found a lot of variability in the readings. I could only get to the first three (engine stand is blocking access to the rear). First two, smallest reading was .0027", third was .0040"
These numbers were only the smallest in a small area. They varied widely from there going up to .006" in spots. Any thoughts on this?
Tomorrow I'm hoping to start on the rods and pistons, possibly pull out the front cover and pump to set that up. Sort of don't really know what order I want to do things beyond that. Any thoughts and/or moral support appreciated.